COVID-19 Recovery Efforts
COVID-19 Nonprofit Resources | COVID-19 Business Resources | COVID-19 Vaccine Information
---
A Message from the President & CEO, Jackie Carrera
December 1, 2021
I remember it like it was yesterday. My team and I huddled, socially-distanced, in my office, adjusting to teleconferencing and connecting with the fellow funders that sit with us on the Foundation Roundtable. We had so many questions about the crisis at hand, and we were deeply concerned about the future of our community, our nonprofit partners, and the world.
We harkened back to the Thomas Fire and subsequent debris flow in 2018, which provided a benchmark to understand our successes and mistakes, and informed us of the importance of being responsive to the needs of our community. This benchmark allowed us to be proactive when the novel coronavirus (COVID-19) hit our shores, and we immediately launched a COVID-19 disaster response fund, knowing that early collaborations and information sharing would be integral to the success of our countywide efforts. With support from leadership at the Hutton Parker Foundation and the United Way of Santa Barbara County, we were able to build and launch the now 36-funder-strong COVID-19 Joint Response Effort (CJRE) on March 19, 2020, just four days after the first confirmed case of COVID-19 in our county.
The Foundation's response to the pandemic has involved so much more than dollars and grant programs. We have shown up to meet community members, share resources, write stories, celebrate successes and volunteerism, and coordinate cross-sector collaborations. We hosted webinars and provided resources to help nonprofits navigate the HR, legal, and financial issues caused by the crisis, connected donors to nonprofits through our "Ways to Help" tool, coordinated the distribution of Personal Protection Equipment, distributed millions in small business grants, and so much more. We also leveraged resources through funder partnerships and provided valuable donor education opportunities, such as our Coffee & Conversations events and other sponsored convenings.
Our community showed up, led by a network of remarkably generous donors and volunteers. And we showed up, not only because it is our responsibility – we showed up because it is our tradition. On behalf of the team at the Santa Barbara Foundation, we will continue to show up for you, provide resources, and bring our community together – because it takes all of us to thrive.
In Community,
Jackie Carrera, President & CEO
Santa Barbara Foundation
---
Community Disaster Relief Fund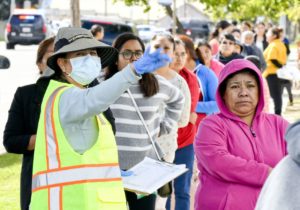 With both natural and human-caused disasters occurring more frequently and with greater severity, the need for financial resources to support nonprofit and government response and recovery efforts is growing rapidly. The Community Disaster Relief Fund at the Santa Barbara Foundation is built to address this need and is activated in the aftermath of an emergency to support nonprofit organizations in short-term and long-term recovery.
When Santa Barbara County was impacted by the Thomas Fire and subsequent 1/9 Debris Flow, our communities were devastated. To provide the needed financial assistance to organizations that are actively engaged in emergency response and recovery operations, the Community Disaster Relief Fund was been activated. It was activated again in response to the COVID-19 crisis, and is actively accepting donations.
The Santa Barbara Foundation is collaborating with the Santa Barbara County Voluntary Organizations Active in Disaster (SBC VOAD) and has been monitoring the response and needs from nonprofit organizations that are assisting individuals and families that have been displaced. These needs will change as we transition into long-term recovery operations, so the foundation will continue to assess the situation and make funding decisions as necessary.
All funds received through the Community Disaster Relief Fund will be utilized in support of SBC VOAD member organizations. The Santa Barbara Foundation is not providing housing assistance or financial assistance directly to individuals and families.
Below, you can view infographics representing CDRF donations and CDRF funds distributed in 2018-19.
Funding decisions are made in coordination with the United Way of Santa Barbara County and the Thomas Fire & 1/9 Debris Flow Fund organized in partnership with the United Way of Ventura County. Initial grants were distributed from the Community Disaster Relief Fund in March 2018.
If you would like to join us to support these agencies in recovery efforts, please click here. For frequently asked questions (FAQ) about the Community Disaster Relief Fund please click here. For more information on the Community Disaster Relief Fund please contact Rubayi Estes, Interim Chief Program Officer, at (805) 963-1873.